I'm Chris Wacker, though I have worked hard in my life and been lucky, I think my major accomplishment has been in the development of the Laserfiche document management platform.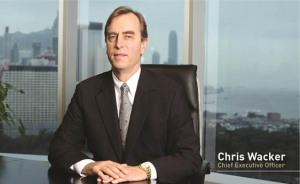 I started 30 years ago as VP of Sales and Marketing of Laserfiche and today I am the CEO. In all these years, I have had the pleasure of working with some of the most talented and hardworking people in the industry.
Other activities and interests include global travels, proficiency in many languages.
Born and raised in New York area, I am a New Yorker at heart even though I now live and settled in sunny California. After graduating from Hofstra in Social Sciences, I joined the State Department seeking opportunities to travel. After a few years and discovering that this was largely civil service, I joined Ralphs & Parsons, Construction Engineering and worked in Saudi Arabia in the planning and construction of a new industrial city called Yanbu. While there, I got immersed in a culture that was very much different from my prior experience. It was fascinating. It helped me develop an appreciation and respect for other ways of life. This is where I also developed an interest in photography. From there, I was able to travel throughout the Middle East, Africa and Europe. 25 months later I returned to the US, financially secure and without obligations.
My return to New York coincided was the dawn of the personal computer age. I bought an Apple II E and began exploring and consulting in computer technology. It soon occurred to me most technological advancements were coming out of the west coast and that was where I needed to be. I packed my Karmann Ghia with all my worldly possessions and headed west. I eventually landed in Santa Monica where my high school buddy had offered me half of his apartment. I began teaching and consulting in the field of computer technology when I met my late wife Nien Ling – wonderful lady; a visionary; and a gifted programmer. Together we built Laserfiche which has become the gold standard in document and enterprise content management. She has since passed and I have assumed the mantle of CEO.
ECM is comparatively new technology and a very competitive field. As CEO I focus on keeping our employees and resellers at home and around the world motivated about developing and marketing Laserfiche ECM. This takes up a lot of my time and energy. However, every now and then I re-energize myself by participating in competitive sailboat racing. I enjoy this team sport immensely and encourage my colleagues at work to join me on wet Wednesday races in the summer and weekend races throughout the year.
So why this blog? I have recently been thinking that I need a forum to share my insights and perspective on varied subjects like technology and human behavior. Being a leader is a constant work. This blog is about the challenges and the effort to provide true value to the Laserfiche community.
I would love to get your feedback on my musings.