When we entered the Molokai Chanel it was as though the race organizers had saved the best for the last. We were currently in 7th place. Bob Zellmer and his brother Richard Whitely were hoping to pick off a few more boats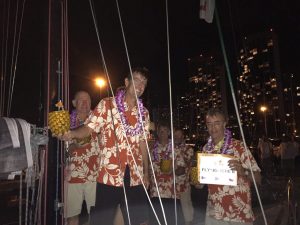 on this final leg.
The wind howled as it was forced through the narrow passage between the Islands of Molokai and Oahu at 20 knots from the starboard rear of the boat, propelling us up and down through the massive 8-foot swells of water. Then as we rounded Diamond Head on our way to Honolulu, the wind further increased velocity to over 24 knots and the boat speed increased to over 15 knots. Bob was shouting to my brother Tim who was on the Spinnaker sheet, alternate messages to pull in the line to increase the pressure on the enormous sail and also warning him not to blow it up, which happens when the pressure upon it becomes too great. I was at the helm maintaining the fine line between broaching the boat – allowing a sudden wind gust to knock it over on its side, and rounding it up – losing control by allowing the boat to sharply head into the wind, which is its natural inclination in heavy winds. It was as though we were on a mission to squeeze this fine boat for everything it was worth. The tension was building to a climax as we approached the end of the race. When we finally crossed the finish line we were all physically and emotionally spent but were quickly revived by a large reception of friends, family, and supporters who congratulated and covered us in leis for having crossed 2250 miles of the Pacific Ocean in a 50-foot boat in 10 days. It was a memorable journey!
In the final results, we did manage to pick off one more and finished the race in 6th place out of 10 boats – 42 minutes out of 2nd place. We were definitely the fastest boat in the fleet but were unable to overcome the several hours lost due to the rudder troubles early in the race and surprises in the trade winds toward the end.